Imagine every choice you made created a fork in the road which lead to a parallel world
A watershed moment describes a dividing point from which life as you know it will never be the same. An action that will change the course of history.
On a global scale, we can think of the outcome of the second World War, the assassination of John F Kennedy, or the outbreak of COVID-19.
On a personal level this might be when you decided on a professional pursuit, when you approached a love interest, or the way that you acted in the moments before it fell apart.
These are decisive moments in time, often subject to our examination in hindsight. We imagine timelines and outcomes if we had acted differently, whole other worlds born in a chain reaction to that decision.
An increasingly popular analysis of quantum physics known as "The Many Worlds Interpretation" (MWI) theorises that these alternate realities actually exist. That every fundamental event that results in multiple probable outcomes splits the world into realities where each of those outcomes eventuated.
The study of quantum physics surrounds the 'quanta', the smallest unit that makes up a physical entity. It is what we can observe at an atomic and sub-atomic level - electrons, photons, neutrons, or generally, particles.
Matter makes up everything in our universe, and to study it at its smallest form is thought to be an important part of forming our fundamental framework for understanding and describing nature.
The thing is, that these quanta behave very strangely, so as a result the study of quantum mechanics can lead to some very strange conclusions about our physical world.
Perhaps most noteable of these strange behaviours is that we cannot define an electron or photons position, trajectory, or momentum (this is the Heisenberg uncertainty principle). Quanta exist as probability distributions. Unless they're interacting with something (i.e. "being observed") they don't have a definite location.
The year is 1935, we're in a lecture hall in Princeton University in New Jersey. There, Erwin Schrödinger is pointing out the absurd nature of quantum mechanics by using an analogy involving a cat, a box and a vial of poison.
You put a cat in a box, and have no way to observe the cat while the box is closed. In the box you also put a device that will release poison based on a quantum observation that has a 50% chance of being "true" (like an electron moving one way or another). If the device reads true, the poison is released and the cat dies. Otherwise the cat lives.
According to quantum mechanics, whilst the cat is inside the box it is equal parts alive and dead. It is in a state of superposition, a blur of probability. Only when we open the box, and observe the cat, does the cat collapse into one or another of the possible definite states - alive, or dead.
This thought experiment is known as "Schrödinger's Cat".
The Copenhagen interpretation is one the oldest and most prevailing collection of views used by physicists to interpret quantum mechanics.
The Copenhagen interpretation asserts that before the observation occurs, an atom exists in superposition - an undetermined state of both decaying and not decaying. Returning to our analogy of Schrödinger's Cat, when the cat enters the box, and superposition, it is both alive and dead.
This phenomena of superposition can be mathematically depicted in the form of a wave. The wave function describes all possible outcomes and their probabilities.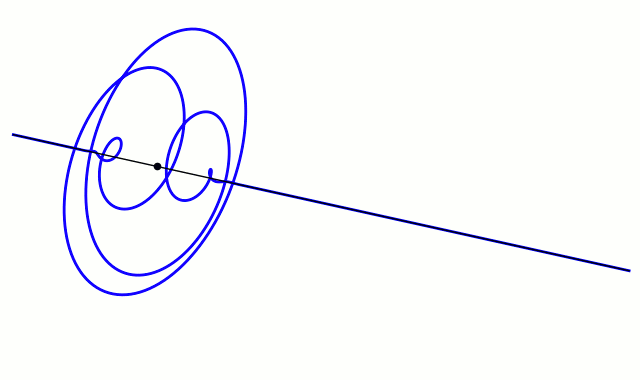 A wave function corresponding to a particle traveling freely through empty space
It is thought that once the quantum system is observed and measured, this wave function collapses into one of the possible states.
For instance, we open the box and discover a dead cat. At this point that outcome is merged with our reality.
The year is 1957, we're still in New Jersey at Princeston University. Here, some 20 years later, Hugh Everett submits his doctoral thesis titled 'The Theory of the Universal Wavefunction'.
It presents another interpretation of quantum mechanics. Distinctly, one in which all possible outcomes of quantum measurements are physically realized in some "world" or universe.
Whilst we found ourselves in the reality in which we unfortunately discovered the cat deceased, there is another where we found a healthy, purring, living cat.
According to Everett's interpretation, this precise moment you are reading this article represents a timeline that is the result of a particular combination of outcomes chained together since the big bang.
If a universe exists for every single combination of possible outcomes since the dawn of time, then there's an unimaginably massive, infinite number of universes. A multiverse, where everything that can happen will happen.
Many Worlds,
Many Questions
Firstly, is there a way to prove the existence of universes outside of our own? The answer remains open, but it is likely that there is no way to verify the existence of other universes.
Some, like physicist Michio Kaku, liken our situation to a fish swimming in a pond. We can move forward and back, side to side, but never up out of the water. If someone were standing beside the pond, watching us, we'd have no idea they were there.
To us, that little pond is an entire universe.
But, if someone was to reach down and lift us out of the pond. We might see that what you thought was the entire world is only a small pool. We might see other ponds. We might see things we've never had to even think about before - like trees, or the sky above.
Perhaps the multiverse is something that exists, but it is beyond our telescopes, beyond our cosmological horizon and what is observable and measurable.
Perhaps the multiverse is something that exists, but it is beyond our telescopes, beyond our cosmological horizon and what is observable and measurable.
Critics of the existence of a multiverse, like Paul Davies and George Ellis, acknowledge that phenomena likely does exist beyond what we can physically observe or measure. However, they warn that it is a slippery slope to accept theories on faith as opposed to scientific verficiation.
That invoking an infinity of unseen universes to explain the unusual features of the one we do see is perhaps just as ad hoc as invoking an unseen Creator. Nothing is wrong with scientifically based philosophical speculation, which is what multiverse proposals are, but they warn that we should name it for what it is.
The multiverse theory may be dressed up in scientific language, but in essence, it requires the same leap of faith.
In one universe I'm a quantum physicist. But not in this universe, the information found on this website should by no means be used as a credible source.
In another universe, I'm a writer. But not in this universe, most of the information in this page was taken from other articles. They can be found in the list below.
In yet another universe, I just presented all the information you just read in the form of an interpretive dance. But, alas, unfortunately this is not that universe.
In this universe my name is Allan and I am a developer. I was inspired to create this page after reading Dark Matter by Blake Crouch.
Dark Matter embeds the Many Worlds Interpretation into a story and explores what might take place if we were to interact with our alternate timelines.
Some of what you have read on this page are quotes taken from the novel. I recommend reading the entire thing, and I hope you enjoy it as much as I did.
Everyone has regrets, everyone has done things they wish they hadn't, everyone wonders what might have happened if things had gone another way. The many-worlds interpretation consoles us and wards us off all at the same time.
I'm rich. I'm a movie star. I'm king of the world. I'm also poor. I'm homeless. Lots of me are dead.
I'm none of these. Not in this universe. But in the multiverse I'm all of them, and more.